Solving Labor Shortages In Manufacturing
One of the biggest staffing challenges manufacturing companies are having today is filling entry-level production positions. Although hiring skilled trades was difficult pre-pandemic, it is becoming increasingly challenging again to hire them as well -- trades such as CNC Machinists, Welders, and Maintenance Technicians.
Looking for new ways to attract and retain talent, companies are streamlining hiring processes, reducing hiring requirements, upskilling existing employees, working with trade schools, and creating apprenticeship programs.
Even with these adjustments, hiring and retention continue to be a challenge, production backlogs persist and many businesses are struggling to achieve operational stability.
For many manufacturing sectors, labor shortages pose significant threats and can result in downed production lines, penalties, revenue loss, and even customer loss.
More companies are contracting with national contingency staffing agencies like MADI, to source temporary labor from across the United States and bring workforces to their plants. Not only does this enable companies to rapidly fill in staffing gaps of 20, 50, or 100+ workers at once -- it also enables them to continue hiring locally without any interference.
In addition to the ongoing threat of current labor shortages for skilled and entry-level manufacturing workers, the manufacturing skills gap continues to be a threat due to the retirement of baby boomers, insufficiency in the current education system for STEM talent, and younger generations being pushed toward College educations rather than careers in the trades.
What is the "Skills Gap"?
We are all hearing in the news about the Skills Gap in Manufacturing, that older highly skilled workers are retiring or leaving the workforce with limited younger workers to replace them. We see this "gap" reflected as labor shortages on the local or regional levels all across the country.
40 percent of global employers report a talent shortage, according to a ManpowerGroup survey. This is why companies are focusing more on training and development, as well as looking for different types of staffing firms to help them address this problem.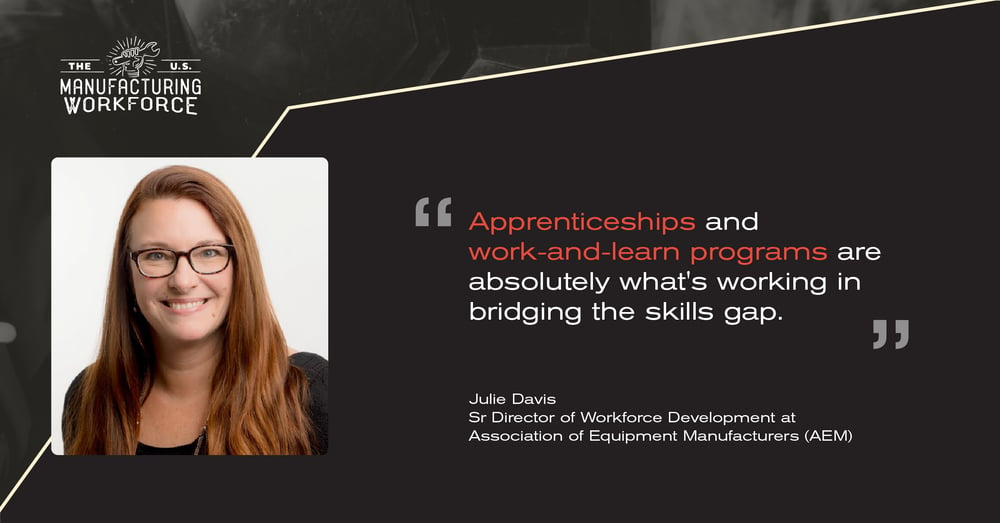 Is the "Skills Gap" in Industrial Manufacturing a Myth?
There are a lot of discussions today about talent shortages and the difficulties companies face finding personnel with the skills and certifications they need. Though some "experts" would argue that the "skills gap" is a myth, we talk with clients every day that tell us otherwise. The fact is, even post-pandemic unemployment rates are at record lows, and many manufacturing companies are still having trouble finding qualified workers.
According to the ManpowerGroup survey, employers can't fill positions for a variety of reasons, including:
So, what can a company do to address these problems?
James Bessen, an economist at Boston University, believes employers must change their hiring processes, as "new technologies frequently require specific new skills that schools don't teach and that labor markets don't supply."
This trend necessitates that employers who use new technologies need to "base hiring decisions not just on education, but also on the non-cognitive skills that allow some people to excel at learning on the job."
Think about Manufacturing. Plants today are adopting more and more automation, robotics, and AI in their quest to increase productivity and remain competitive.
The 21st-century workforce needs to learn proficiency with these technologies. In addition, pay structures should reward those willing to learn new skills. One question becomes, how can this process be streamlined to reach more workers, faster?
Labor Shortages, Skills Gap & Semiconductor Chip Shortages in the Automotive Industry
Due to the scope, scale, and precision of their complex supply chains, one sector that must pay special attention to short and long-term labor challenges is the automotive industry.
First, there is an ongoing labor shortage in manufacturing, and key findings in 2021 from Deloitte and The Manufacturing Institute estimate that 2.1 million jobs will go unfilled by 2030.
According to research carried out by the Automotive Industry Action Group in collaboration with Deloitte, more than half of OEMs and suppliers believe they will face a high level of difficulty if appropriate action isn't taken to close the gap between the rate at which the industry is losing experienced workers and the rate at which it's acquiring new workers.
On top of this, current labor shortages are creating challenges up and down the global supply chain. As if this isn't enough to keep Supply Chain Managers awake at night, ongoing chip shortages have been hammering automakers including General Motors, Ford Motor Company, and Toyota Motor Corporation, and costing the industry billions in lost production and sales. Consulting firm AlixPartners estimates it will likely cost the industry $210 billion in lost revenue this year.
Supply Chains Are Especially Vulnerable to Manufacturing Staffing Shortages
Industrial manufacturers today need to have strategic manufacturing staffing solutions that address limited talent availability.
The first step is to prioritize key roles and then develop in-house or sourced contingent staffing solutions. Keep in mind that different agencies and contingent staffing solutions offer a variety of staffing deployment capabilities which you can then map to meet your different manufacturing staffing needs.
The potential for supply chain interruptions is a constant concern for OEMs and suppliers. After all, 51 percent of all disruptions in the auto supply chain originate below the first tier. Today Tier 1 suppliers need ways to not just monitor their sub-suppliers better in order to assess and mitigate risk, but also limit damage when an issue does arise.
It's impossible to control external events like the 2011 flooding in central Thailand which shut down 1,000 factories, but companies can have business continuity plans in place to respond if such a disruption were to occur and impact your suppliers or facilities. Software companies such as Resilinc offer solutions to track suppliers so that when events such as these occur, an OEM can proactively prepare by understanding which suppliers are within a certain radius of the incident.
And it's not just the physical plant that is at risk. What happens if a natural disaster affects your employees and their ability to get to work, or if reduces the available local labor pool?
Where will you source additional labor from if you need it quickly?

Will you pull employees in from other locations and if so, who is managing this process?

Do you have vendor relationships in place already that can quickly deploy teams to your facility and manage the process for the fast resumption of your operations?
There are many automotive suppliers and areas of the country that are already feeling the impact of the skills gap, such as Michigan's auto tooling industry which has the largest concentrations of openings in the Grand Rapids-Wyoming area along with Metro Detroit.
Other industries are also feeling the strain. Ask any distributor across the United States how they're doing hiring CDL-A Drivers and they'll tell you the same thing -- that it's becoming more challenging each year and hiring qualified drivers is a constant struggle. In 2014, the industry was facing a shortage of nearly 40,000 CDL Drivers and as of 2017, that number has more than doubled.
While many U.S. manufacturers are planning for long-term solutions, businesses also need to consider and incorporate short-term contingent staffing solutions in their manufacturing staffing and crisis staffing solution strategies to quickly source and deploy qualified production labor, skilled trades workers, and craftsmen.
Manufacturing Staffing: Local or National Talent Pool?
There is a difference between a traditional staffing agency that supplies temp labor to reduce costs versus a consultative-type contingency staffing agency that sources talent nationwide and is focused on business continuity and risk mitigation.
A traditional staffing agency usually focuses its recruiting efforts within a certain radius around their client's facility which is often limited with the number of experienced manufacturing workers looking for work.
A national contingency staffing agency like MADI's, which sources its employees from across the United States is focused on the operational needs of the client and is not limited by location when it comes to sourcing talent.
This enables us to source large numbers of experienced production workers and highly experienced skilled trades workers. As a result, we can deliver a workforce that can acclimate quickly to your operations and quickly increase production. Having more experienced labor cuts down on training time and turnover, which is becoming a huge issue for companies receiving unskilled and under-qualified temps from local staffing agencies.
The question then becomes, do the workers from your local staffing agency have the proper skills and experience to meet your production requirements? Can the agency provide the number of workers you need? Can they provide them quickly enough? If not, then national contingency staffing may be the better option.
Contingency Planning For Staff Shortages & Skills Gaps
In today's labor market, forward-thinking companies are shifting their mindset on talent, considering different staffing strategies, preparing contingency plans, and deploying workforces for staff shortages in order to maintain a competitive advantage.
Even if you're able to find the talent you need locally and you're not having issues with hiring now, you may want to consider a worst-case scenario and develop a staffing contingency plan in case you need to ramp up production or fill in critical staffing gaps. Learn more about why and how to develop a contingency plan for staff shortages here.
How to Manage Risk with a Labor Continuity Plan
To help, we have created our Labor Audit Workbook. Now you have a tool to conduct a labor audit to identify skills gaps and develop your own Labor Continuity Plan, as well as identify and put into place different temporary staffing solutions to respond to a variety of threats to your business operations.
Download our free Staff Shortage Planner, and asses key manufacturing personnel by skill sets, department(s), shift(s), priority level(s), ramp-up time by position, and more.
This tool will help you manage and reduce the risk of labor shortages, especially during a period of near-full employment with talent in low supply by being able to:
Identify and prioritize critical staffing gaps

Put in place various staffing resources mapped to individual positions based on priority and local availability

Assemble responsible parties and points of contact

Modulate speed of deployment in a variety of conditions.
What is Contingency Staffing and When Do I Need It?
Contingency staffing is typically used when a company needs workers fast -- in response to labor disputes, natural disasters, or any crisis situation to help companies return to normal operations quickly.
The differentiated features of a Contingency Staffing solution can include:
National talent pool

Fly-in or Drive-In options, depending on the urgency

Turnkey - travel and accommodations, logistics, workmen's comp,

payroll,

etc are taken care of

Workforce management to provide structure and ensure workers arrive as a group each day prior to their scheduled shift.
The goal of contingency staffing is to ensure that open positions are quickly filled and managed so that production logjams are eliminated, operations are maintained and the company's commitments to its customers are met.
Here are some questions to ask in order to determine if contingency staffing resources are needed:
If you find that you're not able to source the skills needed locally, the number of workers you need locally, or that too much time, training, and money are spent on unskilled and unreliable labor from your local area, then an alternative workforce solution, such as MADI's contingent staffing, is a service option worth exploring.
What are the Benefits of Contingency Staffing?
As you will see in the following chart, the Temp Staffing Agency and Contingent Staffing Services have different strengths and are useful in different situations:
| | | |
| --- | --- | --- |
| Feature/Benefits | Temp Agency | Contingent Solution |
| Talent | Lower cost if local resources are available, not reliable if the talent is not available. | Higher cost with reliability and certainty the positions will be filled. |
| Talent Quality | Variable quality and ability to meet job specs, based on limits of the local talent pool. | Higher quality and reliability due to the ability to draw upon a national talent pool. |
| On-Site Management | Oversee processes for efficiency and controlling costs of labor. | Oversee personnel for fast workforce integration and maximum productivity. |
| Business Continuity | Determined by the availability and quality of local talent and lack of training and on-site management. | The time needed to recruit, deploy & train is offset by on-site management and higher quality talent. |
| Speed | Fastest in terms of getting bodies on-site immediately. | Fast with personnel on-site usually within 48 to 72 hours. |
| Productivity | Slower. High turnover, lower skill levels can reduce even further. | Fastest. Higher quality talent, better alignment with on-site management. |
| Market Response | Fastest response, if talent is available. Productivity uncertain. | Fastest productivity, talent and management is available. |
What Types of Industries Can Benefit from Contingency Staffing?
Ensuring there is a sufficient amount of manufacturing labor to maintain operations is critical to business continuity and success in today's economy.
For industries that often require temporary help, especially with hard-to-fill roles, it's even more crucial that they have contingent staffing tools to access and deploy skilled temporary workers when needed.
This is especially true when operations are vulnerable to disruptions because key roles aren't or can't be filled by traditional means.
Here are some examples of industries that can benefit from skilled contingent personnel:
Production and Manufacturing
Production and manufacturing jobs account for 24 percent of all temporary jobs in the United States. This is a significant slice of the temporary/contingent labor segment, and it highlights a large need for labor continuity in Manufacturing.
Unfilled skilled positions like CNC programmers and machinists, injection mold operators to Welders of all types (MIG, TIG, etc), mechanics, boiler operators, and a host of other trained workers can cause significant disruptions to manufacturing operations.
There are expected to be two million unfilled jobs in production by 2025. Temporary personnel are becoming more essential in Manufacturing because a large skills gap has emerged that can, if left unaddressed, impede profitability and growth, and there are simply not enough skilled laborers available.
When a full-time employee can't be found, going to a temp agency may be an option. However, because many traditional temp agencies focus on local pools of talent, this may not be the right tool if there is a local labor shortage in your area.
This is where a contingency staffing services provider, one that sources talent nationwide, can help. The best are able to quickly and reliably provide access to experienced skilled trades personnel no matter the location.
Manufacturers are using temporary labor and an average of five percent of manufacturing payroll is spent on short-term help.
Many of these manufacturing companies are currently using temporary labor to help:
Transportation
Based on a study by the American Transport Research Institute (ATRI), 80 percent of motor carriers are currently experiencing a decline in productivity. This is being caused by new rules on driving hours, poor scheduling (possibly due to the inconsistent nature of the business), and the high cost of operations and maintenance.
In the trucking field, which has a rapidly aging workforce, it is expected that there will be nearly 900,000 job openings in trucking through 2025. However, even by 2022, this will more than double and there will be roughly 240,000 unfilled positions.
These are the reasons why the transportation sector is one of the highest employers of temporary workers. Logistics companies simply need CDL-A drivers, diesel mechanics, fleet maintenance pros, and other specialists in the industry.
However, the skills gap in the transportation industry is very pronounced and the talent pool for high-quality CDL-A Drivers has shrunk to historically low levels making the shortage of drivers national in scale, and sourcing qualified drivers extremely difficult.
Construction
The construction industry has long been a sector where seasonal employment is popular. Even with full-time construction employment rising, and some cities undergoing a construction boom, the construction sector is still one of the highest employers of skilled temp labor.
There are nearly 200,000 unfilled construction jobs as of 2016 and that number is higher today. So, this is why many construction companies choose to go to a staffing agency for heavy equipment operators, pipefitters, crane operators, industrial electricians, and other skilled workers. This sector is extremely volatile regionally. Companies often don't want to hire full-time personnel, and skilled "gig economy" temporary personnel often follow the money, which can exacerbate labor shortages in lower-value markets even more.
It's also partially the nature of the industry that makes temp work so common. Construction jobs have a definite start and finish, and many companies choose to bring on added help temporarily for a big project. Once that project is finished, there may be no need to continue employing some of those workers.
More Information
How To Build A Talent Pipeline of Production Workers
There's a battle going on within the manufacturing industry to attract, hire and retain top talent. With staff shortages impacting operations and customer satisfaction, building a talent pipeline of production workers is more important than ever. Here are some tips to help you build your talent pipeline.
You're not always going to have enough staff on hand to keep up with production. What's more, if your manufacturing facility is located in a remote area or in an area where skilled labor is hard to source, traditional staffing agencies may not be able to help find the personnel you need to keep production on schedule.
Having a labor continuity plan in place for when you're facing a staffing emergency is important for every business, but especially needed within the automotive industry where large penalties can be imposed if the product is not delivered on time. Download our Labor Inventory Workbook to proactively plan for such issues.
Today's companies benefit greatly from flexible workforces and it's needed in order to compete globally. It becomes even more important, in times of crisis, to be able to respond to man-made or natural disasters with the help of contingent workers.
As of October 6, 2017, there had been 15 weather and climate disaster events with losses exceeding $1 billion each across the U.S., according to the National Oceanic and Atmospheric Administration. Contingent workforces play a critical role in disaster recovery efforts to get your business back up and running.
Business continuity planning is often misunderstood or overlooked, however, it is a critical aspect of long-term business success regardless of industry.
One thing that has become crystal clear, is that local labor shortages are a real threat to business continuity and are often overlooked by businesses until they're facing a dire situation. Thankfully, there are tools like this Labor Inventory Workbook to proactively help business prepare and companies like MADI that can quickly respond by mobilizing teams of 50 to 100 highly skilled employees at a time and have them acclimate to your operations quickly and seamlessly.
Looking for more great articles? Head over to our main blog page and don't forget to sign up to our email list to have new content delivered to your inbox.