Before the COVID19 pandemic, there was a battle going on within the manufacturing industry to attract, hire and retain top talent. Skilled trades were hard to hire and staff shortages were having a negative impact on operations and customer satisfaction. Now companies are having trouble hiring and retaining unskilled and entry-level production labor. As companies continue to recover from the pandemic and prepare for the new normal, it's clear that building a talent pipeline of production workers is more important than ever. Here are some tips to help you build a pipeline of candidates.
What is a talent pipeline?
A talent pipeline is an evolving flow of candidates who align with your company's talent needs that you may want to hire now, in the future, or for any new roles that may open up moving forward. This may include external candidates as well as existing employees looking for career advancement.
Talent Pipeline Strategy
The first step in building a talent pipeline is to understand the overall strategic direction of your company so your recruiting efforts align with your company's business goals.
Identify which roles are critical to your existing operations, any future growth or expansion plans as well as upcoming projects. Once your business strategy is understood, ongoing and future hiring efforts should be prioritized around them.
Make sure to have strong recruiting and staffing strategies in place for roles that are hard-to-fill and that tend to have high turnover rates like assemblers and low-level production. Employee turnover is costly, so it's also a good idea to identify areas of improvement to increase employee retention. Setting proper expectations during hiring, providing proper training and mentorship, and conducting exit interviews are some of the strategies I mentioned in another post about helping to reduce employee turnover at your manufacturing facility.
Consider conducting a "what if" analysis to determine what would happen if key team members leave and positions remain open. What if you couldn't fully staff a production line? What if you lost a group of CNC Machinists to the new company down the street that will be opening later this year? What if you receive an unexpected large order from a customer and need to quickly ramp up production? Proactive companies are now preparing contingency plans for staff shortages so they have solutions in place for their worst-case staffing challenges.
Identify Candidate Personas
Similar to traditional marketing, recruitment marketing starts with identifying your target "Candidate Persona" or "Candidate Avatars" which is a semi-fictional representation of your ideal candidate. The purpose is to help you understand your prospective candidates better so you can tailor your content and messaging towards their specific career needs, behaviors, and concerns.
Some questions to ask yourself about "Machine Operator Mary" or "Welder Will" include:
What are the skills and certifications required to do their job?
What does a typical day look like for them?
What tools do they use?
Is career advancement important to them?
What associations and social networks do they participate in?
Is company culture important?
Where do they spend time online?
What career sites do they use?
How do they research companies before applying?
What are their demographics?
The foundation for candidate personas should be based upon hard data and not assumptions. Start by speaking with successful production employees and plant supervisors to ask about their goals, motivations, interests, and the technology and websites they use for career-related information. Then speak with hiring managers to learn more about their experiences, what they're looking for and the technology and websites they're using to connect with prospects.
Once you have an idea of who your target candidate personas are, you're better equipped to develop content for your job ads, website, social media, career pages, events, and email marketing that speaks directly to their needs and desires. Use content to create awareness of your company and to educate candidates about why your company may be a good fit.
Social Media for Talent Acquisition
Recruiting via social media is growing and it's a great place to actively recruit passive job candidates for your talent pipeline. LinkedIn, Facebook, and Twitter are some of the top social media platforms used for social recruiting right now.
For Human Resources and Talent Acquisition professionals, LinkedIn is a great place to share information about your company and your open jobs. I'm not just talking about posts from your company LinkedIn page or publishing job ads either.
LinkedIn has become more of a content platform, so if you're not publishing your own content regularly you're missing out big time. You can share links to open jobs or information about your company, you can also write short posts on your feed or publish articles as well. Here are a few content ideas to get you started:
Post about employee recognition
Did your production team break a record? Write a post and share a picture about it
Take a short video of an employee talking about what they like about working for your company
Having a career fair? Post about it once a week starting a few weeks prior to the event
Take pictures DURING the career fair and post them afterward
You'll also be able to see metrics on the posts and articles you publish on LinkedIn. For example, I wrote about a group of our employees who worked on a couple of tough casting projects with us. For everyone who stayed for the duration of the project that lasted several months, our CEO wrote them a personal note and provided them with Leatherman Tools, so I wrote a quick post and shared a few pictures about it.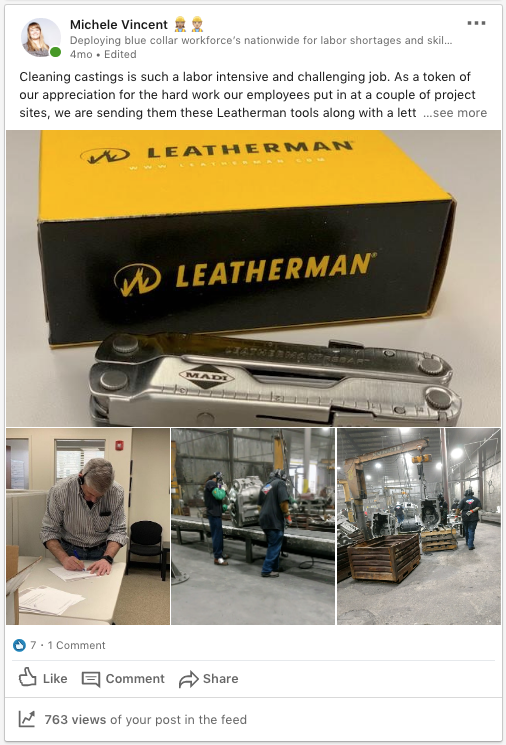 Not only did 763 people view my post in their feed, but I can see information about who viewed it such as what company they work for, what their titles are, and what cities they live in. This is a great strategy to spread brand awareness and to get passive candidates to start thinking about the benefits of working with your company. Here are some more LinkedIn tips for hiring managers and recruiters to amplify their talent acquisition efforts.
Employee Referral Programs
An often overlooked source for helping to fill your talent pipeline is your company's current employees. If you don't have one already, consider putting together an official program to reward current employees for referring qualified candidates for employment. Incentives may include recognition, cash bonuses, prizes, or additional PTO days.
Once you've decided upon what incentives to offer, you'll need to provide a direct way for employees to share those qualified candidates with your hiring team. Create a website page (also known as a landing page) for this purpose or a portal that explains the program, how employees can submit their referrals, the policies around the program, and the benefits to them for making good referrals.
Once your referral program is in place, you'll want to educate your employees about the new program and the benefits of referring candidates. It's not enough to inform employees once though, so you'll want to make sure the program stays top of mind. Offer information sessions, share via newsletters, social media, and don't forget to provide regular updates on referral hiring across the organization.
Fill Your Talent Pipeline With Contingency Staffing
With the existing labor shortages and skill gaps in manufacturing, skilled production workers are in short supply. It's increasingly more difficult to get labor from local staffing agencies due to the current market conditions.
Unlike traditional staffing companies that recruit around your local area, contingency staffing agencies such as MADI draw skilled production workers from across the entire United States. Opening up access to a national talent pool enables contingency staffing providers to provide you with a consistent pipeline of talent that you wouldn't normally have access to.
Contingency staffing can also be used for crisis staffing situations when you need workers on-site very quickly to catch up on production backlogs, to keep production on schedule if you get an expected customer order or if you suddenly lose critical skilled labor at your plant.
Many manufacturing companies today are even preparing contingency plans for staff shortages. If you're concerned about a lack of talent around your manufacturing facilities, it's best to speak with a contingency staffing provider before the need arises to understand how the process works, what their turnaround time might be for your worst-case staffing scenarios, and understand the associated costs of mobilizing an experienced team from around the country to your facility.
In today's labor market, employers can no longer rely on passive recruiting strategies; if they want to be successful they must focus on proactively targeting and engaging passive candidates for future opportunities as well as bringing new staffing strategies into the mix such as contingency staffing agencies.
Let us know in the comments what has been successful at your company for building a talent pipeline of skilled production workers.