Industrial Labor and Manufacturing "Jobs" are Changing...
Having "a job" used to mean securing a full-time position with a company that an employee would remain at for his or her working career, maintaining a steady or predictable stream of income.
Companies looked at "temps" as clerical support or low skilled labor. And no one wanted to be labeled as a "just a temp" - it was much more respectable for people to have stable, full-time jobs that guaranteed them a paycheck with benefits each week.
This was a societal norm for much of the 20th century. But today, the mindset is changing and changing very quickly as:
Many more workers are increasingly enjoying the flexibility offered by temporary, contract, and seasonal staffing projects
Perhaps this change accelerated as the result of an unstable economy precipitated by the Great Recession of 2008, when companies couldn't afford to hire full-time staff members and had to adjust their hiring strategies.
Now that the stigma of "temping" has been lifted, temporary staffing has since grown into a huge win-win situation for companies and their contract employees:
Full-time jobs aren't going away completely, but for many manufacturing companies in most industries, temp staffing offers a host of benefits.
Hiring new full time employees can be prohibitively expensive, especially considering all the associated costs including health insurance and other benefits for years to come. Traditionally, contract work is most often applied to maintain stable operations from month to month with the goal of reducing the costs of labor. That is what the Managed Service Provider (MSP) model is all about.
Temporary Staffing is Changing Too
On the workers' side of the equation, there's also been increasing acceptance of temporary labor and the gig-style temporary contract jobs. Temp agencies themselves have come to understand that that many skilled workers prefer to have more control of when and where they work not because they have to, but because they choose to do so. This means that there are pools of high quality temporary labor out there, if you know how to find and access them.
What is the "Skills Gap"?
We are all hearing in the news lots about the Skills Gap in Manufacturing, that older highly skilled workers are retiring or leaving the workforce with limited younger workers to replace them. We see this "gap" reflected as labor shortages on the the local or regional levels all across the country.
40 percent of global employers report a talent shortage, according to a ManpowerGroup survey. This is why companies are focusing more on training and development, as well as looking for different types of staffing firms to help them address this problem.
Is the "Skills Gap" in Industrial Manufacturing a Myth?
There is a lot of discussion today about talent shortages and difficulties companies face finding personnel with the skills and certifications they need. Though some "experts" would argue that the "skills gap" is a myth, we talk with clients everyday that tell us otherwise. The fact is, that with unemployment now at record lows, many manufacturing companies are having trouble finding qualified workers. Surveys have proven this repeatedly over the last decade.
According to the ManpowerGroup survey, employers can't fill positions for a variety of reasons, including:
So, what can a company do to address these problems?
James Bessen, an economist at Boston University, believes employers must change their hiring processes, as "new technologies frequently require specific new skills that schools don't teach and that labor markets don't supply."
This trend necessitates that employers who use new technologies need to "base hiring decisions not just on education, but also on the non-cognitive skills that allow some people to excel at learning on the job."
Think about Manufacturing. Plants today are adopting more and more automation, robotics, AI and more, in their quest to increase productivity and remain competitive.
The 21st Century workforce needs to learn proficiency with these technologies. In addition, pay structures should reward those willing to learn new skills. One question becomes, how can this process be streamlined to reach more workers, faster?
How Can Companies Solve the Labor Shortage Problem?
Some companies are starting to experiment and find new ways to fill their labor needs. A streamlined hiring process, more open, less rigid job descriptions, and more effective training, scheduling, and use of technology can help. However it is becoming clear that even with these adjustments, companies may still not be able to meet their short term operational needs, especially in states where unemployment is extremely low.
Labor shortages can pose a significant threat if they result in delayed orders, losses of revenue, or customers. If this is the case, companies may need to consider different workforce staffing solutions, such as sourcing and mobilizing temporary labor from across the United States.
For instance, if your company needs more welders of a specific type to finish a job, but there aren't welders with the skills needed in the local area, companies may be compelled to expand the scope of their recruiting efforts or else face the risk that the job won't get finished on time and that disappointed customers will seek other suppliers.
Additionally, unexpected challenges, from civil unrest to natural disasters, can make it necessary to be able to access skilled labor on short notice if business continuity is to be maintained. Physical risk management best practice dictates that any company needs to be prepared for threats like these.
Simply put, the skills gap and its impact on labor continuity and the risk that unfilled positions pose to manufacturing operations is now a planning priority so that critical positions at the plant are always properly staffed and that labor continuity is maintained no matter the business threat.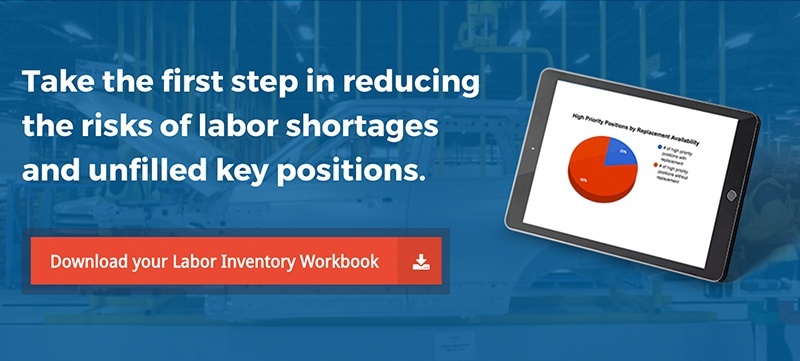 The Skills Gap in the Auto Industry
Due to the scope, scale and precision of their supply chains and operational complexity, one sector that must pay special attention to short and long term skills gaps, labor shortages and labor continuity is the automotive industry.
First, there is an ongoing skilled labor shortage in the automotive industry. Some estimates say unfilled positions could exceed 2 million auto manufacturing jobs by 2019.
According to research carried out by the Automotive Industry Action Group in collaboration with Deloitte, more than half of OEMs and suppliers believe they will face a high level of difficulty if appropriate action isn't taken to close the gap between the rate at which the industry is losing experienced workers and the rate at which it's acquiring new workers.
On top of this, depending on the region and the role, right now there are local talent shortages that can and are having cascading repercussions up and down the global supply chain. This means that for OEMs and suppliers, there are lots of labor challenges to address in order to reduce the risks of labor shortages and ensure business continuity and supply chain resilience.
New Automotive Staffing Solutions to Address Labor Risk
This is why in the auto industry, having automotive staffing solutions that utilize a variety of temporary resources and contingent staffing solutions at the ready to meet the complex labor needs of the industry is important to help reduce the risks of supply chain interruptions and resulting consequences.
Here's what you need to know about managing labor continuity for your business:
Supply Chains Are Especially Vulnerable to Manufacturing Staffing Shortages
Industrial manufacturers today need to have strategic manufacturing crisis staffing solutions that address labor shortages and limited talent availability.
The first step is to prioritize key roles and then develop in house or source contingent staffing solutions. Keep in mind that different agencies and contingent staffing solutions offer a variety of staffing deployment capabilities which you can then map to meet your different manufacturing staffing needs.
The potential for supply chain interruptions is a constant concern for OEMs and suppliers. After all, 51 percent of all disruptions in the auto supply chain originate below the first tier. Today Tier 1 suppliers need ways to not just monitor their sub-suppliers better in order to assess and mitigate risk, but also limit damage when an issue does arise.
It's impossible to control external events like the 2011 flooding in central Thailand which shut down 1,000 factories, but companies can have business continuity plans in place to respond if such a disruption were to occur and impact your suppliers or facilities. Software companies such as Resilinc offer solutions to track suppliers so that when events such as these occur, an OEM can proactively prepare by understanding which suppliers are within a certain radius of the incident.
And it's not just the physical plant that is at risk. What happens if a natural disaster affects your your employees and their ability to get to work, or if reduces the available local labor pool?
There are many automotive suppliers and areas of the country that are already feeling the impact of the skills gap, such as Michigan's auto tooling industry which has the largest concentrations of openings in the Grand Rapids-Wyoming area along with Metro Detroit.
Other industries are also feeling the strain. Ask any distributor across the United States how they're doing hiring CDL-A Drivers and they'll tell you the same thing -- that's it's becoming more challenging each year and hiring qualified drivers is a constant struggle. In 2014, the industry was facing a shortage of nearly 40,000 CDL Drivers and as of 2017, that number has more than doubled.
While many U.S. manufacturers are planning for long-term solutions, business also need to consider and incorporate short-term contingent staffing solutions in their manufacturing staffing and crisis staffing solution strategies to quickly source and deploy qualified production labor, skilled trades workers and craftsmen.
What is Labor Continuity In Manufacturing Staffing, And Why Is It Important?
We define Labor Continuity as a company's ability to fill key positions and meet its production schedules at all times. There are many ways labor continuity can be disrupted and many are outside of your control, like natural disasters, fires, geopolitical risks, and epidemics.
Other threats, such as local labor shortages, may be easier to predict but still present uncertainty and risk. What's under your control is how well prepared you are and how decisively and quickly you respond.
For example, since the 1970s, the number of natural disasters across the world has increased. Knowing this, many companies today have business continuity plans in place to address the physical impacts of disruptive weather or other conditions on operations.
Best practice in manufacturing staffing now dictates that companies also address the risk relative to labor that occurs when and if key personnel may not be able to make it to your plant, or when critical plant personnel, such as CNC Machinists, Maintenance Techs, Boiler Operators, Welders, etc., are not available.
In this case, it is important have a variety of tools at your disposal including traditional temporary staffing agencies and industrial or manufacturing crisis staffing solutions that have the ability to provide contingent staffing solutions efficiently under a high-pressure conditions.
Given the fact that threats to manufacturing operations can arise at any time, you may need specialized resources that are able to cast a wider net outside the area and provide skilled labor very quickly or not available locally. This way, companies are able to avoid falling behind production and while keeping their clients satisfied.
With more than 20,000 staffing agencies in the US, it can be hard to figure out which type of temporary staffing solution can provide you with the right talent and ongoing support that you need.
Manufacturing Labor: Temp Staffing Agency or Contingent Staffing Solution?
Companies need to understand that there is a difference between a consultative-type contingent staffing solution that's focused on business continuity, versus a traditional staffing agency that supplies temp labor to reduce costs.
A traditional staffing agency usually focuses their recruiting efforts within a certain radius of their facility or their client's facility, and they may or may not have access to the experienced workers you need.
A contingent staffing solution, like MADI's, that sources its employees from across the United States is focused on the operational needs of the client and is not limited by location.
This enables us to either source workforces, from cnc machinists to assemblers or a mix of talent at one time. We also focus on sourcing the most experienced and skilled labor to facilitate faster on-boarding and production. Having more experienced labor cuts down on training time and turnover, which is becoming a huge issue for companies receiving unskilled and under qualified temps from local staffing agencies.
The question often becomes, do the workers each resource provides have the proper skills and experience to meet your production requirements?, and Can the agency provide staffing deployment quick enough?
Labor Shortages and the Case for Contingent Staffing Solutions
Take, for example, an OEM supplier working in a highly interdependent automotive supply chain environment. What happens if the temp agency can't deliver the personnel needed?, can't personnel with the right skills?, can't deliver them quickly enough? Can your company afford to take such a risk and be vulnerable to such a threat?
The good news in this type of instance is, a specialized contingent staffing solution provider may be able to fill positions quickly by sourcing personnel outside the region without the talent constraints imposed by labor shortages within the local market.
Some providers also offer proactive staffing solutions and are able to assemble backup resources to eliminate staffing gaps due to foreseen or unforeseen threats that may arise and maintain business continuity.

A true contingent staffing solution also offers logistical support and on-site management, for the most efficient integration and productivity so you can get full value from temporary Machine Operators, Assemblers, Maintenance Techs, Machinists, Welders, etc.
In terms of manufacturing staffing, it's important that you evaluate the different temporary and contingent staffing options that are available to you and understand their core competencies and experience, especially in relation to availability of labor in your location.

How to Determine What Staffing Solution is Best for Your Situation
To assess an agency or services provider and its workers, we recommend that you:
Keep in mind that some service providers offer solutions to help you manage risk and address any issues that might arise 24/7. In other situations, no structure and reducing labor costs may be appropriate, assuming the talent is available. Higher levels of service are not always provided by a traditional staffing agencies and its important to understand your needs and these differences.
How to Manage Risk with a Labor Continuity Plan
To help, we have created our Labor Audit Workbook. Now you a tool conduct a labor audit to identify skills gaps and develop your own Labor Continuity Plan, as well as identify and put into place different temporary staffing solutions to respond to a variety of threats to your business operations.
Download our free Labor Audit Workbook here, and asses key manufacturing personnel by skill sets, department(s), shift(s), priority level(s), ramp-up time by position, and more.
This tool will help you manage and reduce risk of labor shortages, especially during a period of near full employment with talent in low supply by being able to:
What is Contingent Staffing?, and When do I need it?
Contingent Staffing Services is a specialized subset of temporary staffing specifically designed to maintain, in this case, manufacturing operations by reducing the risk of labor shortages in order to ensure that key jobs will continue to be filled even when talent is not available locally.
The differentiated features of a Contingent Staffing solution can include:
Turnkey - payroll, travel and accommodations, workmen's comp, etc are taken care of
The goal of contingent staffing is to ensure that open positions are quickly filled and managed so that production logjams due are eliminated, operations are maintained and the company's commitments to its customers are met.
If your temporary labor needs can be met utilizing locally available talent or reducing the costs of labor is the objective, a Temp Agency may be the right tool.
Here are some questions to ask in order to determine if contingent staffing resources are needed:
What is the impact on my business if, for example, my open positions don't get filled?




Are operations affected? If so, how?
Is the labor I'm receiving from local staffing agencies qualified? Is high turnover and no-shows impacting operational stability? What is the high turnover actually costing


Are my Managers experiencing training fatigue from high-turnover of my staffing agency?


With the low unemployment in my state, can my staffing agencies actually source the amount of workers I need within the time-frame that I need them?
If the labor being provided by my local staffing agencies are not qualified, is the time and money spent on training them worth it or would it be more cost effective to hire experienced skilled labor from other areas to decrease the training period and increase productivity and output?
If you find that you're not able to source the skills needed locally, the amount of workers you need locally, or that too much time, training and money is spent on unskilled and unreliable labor from your local area, then an alternative workforce solution, such as MADI's contingent staffing, is a service option worth exploring.
What are the Benefits of Contingent Staffing?
As you will see in the following chart, the Temp Staffing Agency and Contingent Staffing Services have different strengths and are useful in different situations:
| | | |
| --- | --- | --- |
| Feature/Benefits | Temp Agency | Contingent Solution |
| Talent | Lower cost if local resources are available, not reliable if talent is not available. | Higher cost with reliability and certainty the positions will be filled. |
| | | |
| Talent Quality | Variable quality and ability to meet job specs, based on limits of local talent pool. | Higher quality and reliability due to ability to draw upon national talent pool. |
| | | |
| On-Site Management | Oversee processes for efficiency and controlling costs of labor. | Oversee personnel for fast workforce integration and maximum productivity. |
| | | |
| Business Continuity | Determined by availability and quality of local talent and lack of training and on-site management. | Time needed to recruit, deploy & train is offset by on-site management and higher quality talent. |
| | | |
| Speed | Fastest in terms of getting bodies on site immediately. | Fast with personnel on-site usually within 48 to 72 hours. |
| | | |
| Productivity | Slower. High turnover, lower skill levels can reduce even further. | Fastest. Higher quality talent, better alignment with on-site management. |
| | | |
| Market Response | Fastest response, if talent is available. Productivity uncertain. | Fastest productivity, talent and management is available. |
Different Temp Staffing Options Solve Different Problems: The Right Tool for the Right Job
The big differences are that Temp Agencies are traditionally used to lower costs of labor, drive workforce efficiency and workforce management reflected by the Managed Services Provider Model, and their ability to meet company needs are also highly dependent on the availability of local talent to fill open positions.
Contingent Staffing Services on the other hand is a tool to manage risk that arises from unfilled positions that can interfere with and/or disrupt normal operations and business continuity. Contingent Staffing, because transportation and accommodations and other costs make this option more expensive relative to the costs of labor, but inexpensive relative to loss.
This option comes into play however, to reduce risk when there are costly consequences to the business resulting from unfilled positions and their impact on impeded operations that result.
So perhaps a different way to approach these staffing resources is not to think of them in binary, either/or terms, but rather as different tools that solve the different types staffing needs, from lowering costs of labor to reducing physical risk and the associated losses that result.
In today's markets, it is in a company's best interests to review and prioritize its labor continuity needs and resources and develop a variety of temporary staffing resources to ensure maximum responsiveness to any business threat.
Ensuring Labor Continuity in the Supply Chain
Manufacturers in highly complex, interdependent and optimized supply chains also face extraordinary exposure and risks from local labor shortages.
This is because many companies don't formally recognize the impact of labor and labor shortages on business continuity, and the additional risks of unfilled staffing gaps, which if left unattended, can lead to significant penalties and losses.
One solution is is to identify the risk and add a contingency staffing services resource into their business continuity plans to manage the risk of labor shortages.
It's important to remember that not all solutions are the same, and that companies may need a variety of temporary staffing resources to ensure Labor Continuity.
Download our free Labor Inventory Workbook to help you identify and prioritize key manufacturing positions and resources so that you can respond quickly to any business disruption that can impact your operations.
Emerging Trends in Contingent Staffing and Business Continuity - what you need to know today

What is Labor Continuity?
No matter what industry your company is in or what specifically your business does, one of your primary goals as a business executive is to maintain business continuity.
In today's robust economy with near full employment and resulting shortages of skilled labor in manufacturing, a company's ability to source talent when needed, which we call Labor Continuity, should now a critical component to any business continuity plan.
And Business Continuity?
There's a common tendency among businesses to conflate "business continuity" with "disaster recovery," but the two are very different in reality, according to CIO.com.
Kim Lindros, an online curriculum and classroom training developer, stated that continuity is a broader term. "A Disaster Recovery (DR) plan focuses mainly on restoring IT infrastructure and operations after a crisis," Lindros explained. "It's actually just one part of a complete Business Continuity Plan, that looks at the continuity of the entire organization."
Continuity includes other factors beyond data and technology including facilities and equipment, and labor availability and labor continuity and the availability of talent to keep your organization on task and maintain operations.
Addressing all of the above should be part of any Business Continuity Plan.
Why Labor Continuity Matters?
Certainly recovering any lost files and restoring IT infrastructure in the event of a natural disaster is important, obviously. But CIO.com also stressed that it's a mistake to focus solely on IT.
When an outside event threatens to disrupt your organization, you must act quickly to ensure that you remain adequately staffed to maintain business as usual, especially since your immediate needs may be diverting your personnel to restoration activities.
Every company needs to ask the question of what happens to operations if your locality is facing a skills gap or talent shortages and you can't source the additional manpower you need?
In many cases operations can be affected and a whole host of negative consequences and losses can result. This is why Labor Continuity needs to be called out as its own line item, just like IT and Facilities and Equipment, in any Business Continuity Plan.
What Can You Do to Prepare for Labor Continuity?
Before planning even begins, it is also important to understand the variety of temporary staffing options that are available, and how each can contribute to the overall business continuity of your company.
In any line of work, but perhaps especially in just in time and lean manufacturing environments, it can sometimes be difficult to predict all the threats that can adversely affect revenue.
Sales numbers can fluctuate based on uncontrollable external economic or political factors, and demand for your product can be volatile and go up or down unexpectedly, even with the best predictive models in place.
One of the tools to running a business that can stay resilient and manage risk is to have a variety to temporary and contingent staffing plans and resources in place in order to quickly adjust to these factors.
The Gig Economy - Skilled Temporary Workers Are Coming Out In Full Force
The great news is that at some point during the last decade or so, Americans began to seek more flexibility in relation to work. Whereas previously they were only on the lookout for stable, permanent, full-time jobs, workers eventually came to realize there were other ways of making a steady income.
Many have become more interested in working on a temporary or contract or "gig" basis, carving out an independent career path rather than committing to work for one (1) employer for an extended period of years or even decades.
This came about largely out of necessity. During the recession of the late 2000s, there were fewer full-time positions available, so many skilled workers were forced to find other arrangements to pay their bills and feed their families.
But since 2010, even though full-time jobs have been trickling back into the American economy at a steady pace, and there's a sizable portion of the workforce saying "thanks, but no thanks." Instead, they're turning to contingent work or what some call the "Gig Economy" as a new career path with more flexibility and control.
Contractors Are Redefining Labor in Manufacturing
Just how many people in today's economy are relying on contingent work? We have reason to believe that the figure is still relatively small, but it's growing quickly.It is estimated that about 2.9 million people have contingent jobs today, which is about 2.4 percent of the total working population.
We can see this trend happening in a lot of industries, from companies like Uber, the popular ride sharing service now has a pool of over 160,000 drivers who work on a temporary basis, with only 2,000 full-time staffers, to large scale industrial manufacturers who look to skilled contract workforces to fill in seasonal and other labor gaps and manage labor risk.
There are highly skilled workers in virtually every industry all over the country who actually prefer contract work and choose it as a matter of course. They enjoy the freedom to work when they work and appreciate opportunities to travel to new locations and at work at a variety of businesses as a way to further their expertise and experience.
As this model becomes more prevalent, the a high quality contingent workforce will continue to grow.
Is Temporary Employment On the Rise?
In recent years, as companies have looked for new, creative strategies for filling their staffing needs, they've become increasingly reliant on temporary employees, according to the Milwaukee Business Journal.
Mark Marcon, senior research analyst at Milwaukee wealth management firm Robert W. Baird and Company, told the source that the value of the temporary staffing industry as a whole has doubled since 1995, and it's still rapidly growing in value. As of 2015, the total market was worth $121 billion and an annual growth of 5 to 6% per year.
Largely, this increase is due to a changing perception of temporary work in society.
"Having a job through a temporary agency was viewed as a suboptimal type of work, but broadly speaking, it's increasing in recognition as a social good rather than social negative," Marcon said. "It's a good way to get people from a state of unemployment to employment."
Being "a temp" used to carry a negative stigma, but now there is a growing consensus that temporary staffing is a tool that can help get workers and their employers hedge against turbulent business conditions.
The Shift from Perm to Temp?
There are a lot of factors driving this change. One is the rise of the so-called Uber or Gig economy."
In the case of Uber, we now live in an era in which people no longer need to flag down a corporate-owned taxi to get a ride from Point A to Point B - they can use mobile apps to find drivers independently.
In terms of manufacturing labor, skilled personnel are in high demand and can deliver their services to the end users without any need for a permanent, full-time job, disrupting the status quo of the current model as well.
It's interesting to look at how this mindset is evolving and what impact it's having on labor as a whole. One area we see this disruptive force taking form is in staffing in general, and temporary staffing in particular.
Growth is being driven by a number of factors:
Company
Companies are now starting to see that temporary staffing, which traditionally was used to reduce costs of labor overall, now has other potential uses, especially in relation to Labor Continuity and a company's ability to maintain operations by keeping key positions staffed at all times.
Talent
More and more workers are actively choosing taking on contract jobs and having control of when and where they work. Many of these skilled workers like taking on temporary assignments in new locations that require travel, and prefer jobs where their efforts are valued and make a difference.
Economy
With unemployment at or below 4%, the US economy is currently enjoying full or near full employment, which means workers have more options and are following the money, and the best jobs. One result is that many localities are now struggling with skills gaps and labor shortages. Add to this the uncertainty from international trade, tariffs and politics, companies today need more tools for Labor Continuity and the agility that contingent staffing provides.
What Types of Industries Can Benefit from Contingent Staffing?
Ensuring there is a sufficient amount of skilled labor to maintain operations is critical business continuity and success in today's economy.
For industries that often require temporary help especially with hard-to-fill roles, it's even more crucial to that they have contingent staffing tools to access and deploy skilled short-term workers where and when needed.
This is especially true when operations are vulnerable to disruptions because key roles aren't or can't be filled by traditional means, and losses will result.
Here are some examples of industries that can benefit from skilled contingent personnel:
Production and Manufacturing
Production and manufacturing jobs account for 24 percent of all temporary jobs in the United States. This is a significant slice of the temporary/contingent labor segment, and it highlights a large need for labor continuity in Manufacturing.
Unfilled skilled positions like CNC programmers and machinists, and injection mold operators to welders of all types (mig, tig, etc), to mechanics, boiler operators and a host of other trained workers can cause significant disruptions to manufacturing operations.
There is expected to be two million unfilled jobs in production by 2025. Temporary personnel is becoming more essential in Manufacturing because a large skills gap has emerged that can, if left unaddressed, impede profitability and growth, and there are simply not enough skilled laborers available.
When a full-time employee can't be found, going to a temp agency may be an option. However, because many traditional temp agencies focus on local pools of talent, this may not be the right tool if there is local labor shortage in your area.
This is where a contingency staffing services provider, one that sources talent nationwide, can help. The best are able to quickly and reliably provide access to experienced skilled trades personnel no matter the location.
Manufacturers are applying the temporary labor and an average of five percent of manufacturing payroll is spent on short-term help.
Many of these manufacturing companies are currently using temporary and contingent labor to in the Labor Continuity context to help:
Transportation
Based off a study by the American Transport Research Institute (ATRI), 80 percent of motor carriers are currently experiencing a decline in productivity. This is being caused by new rules on driving hours, poor scheduling (possibly due to the inconsistent nature of the business) and the high cost of operations and maintenance.
In the trucking field, which has a rapidly aging workforce, it is expected that there will be nearly 900,000 job openings in trucking through 2025. However, even by 2022, this will more than double and there will be roughly 240,000 unfilled positions.
These are the reasons why the transportation sector is one of the highest employers of temporary workers. Logistics companies simply need CDL-A drivers, diesel mechanics, fleet maintenance pros and other specialists in the industry.
However, the skills gap in the transportation industry is very pronounced and the talent pool for high quality CDL-A Drivers has shrunk to historically low levels making the shortage for drivers national in scale, and sourcing qualified drivers extremely difficult.
Construction
The construction industry has long been a sector where seasonal employment is popular. Even with full-time construction employment rising, and some cities undergoing a construction boom, the construction sector is still one of the highest employers of skilled temp labor.
There are nearly 200,000 unfilled construction jobs as of 2016 and that number is higher today. So, this is why many construction companies choose to go to a staffing agency for heavy equipment operators, pipefitters, crane operators, industrial electricians and other skilled workers. This sector is extremely volatile regionally. Companies often don't want to hire full time personnel, and skilled "gig economy" temporary personnel often follow the money, which can exacerbate labor shortages in lower value markets even more.
It's also partially the nature of the industry that makes temp work so common. Construction jobs have a definite start and finish, and many companies choose to bring on added help temporarily for a big project. Once that project is finished, there may be no need to continue employing some of those workers.
Bottom Line: The Labor Environment is Dynamic and Changing
As the paradigm of work in the United States is changing, it's up to employers and employees to adapt in order to fully benefit from this transformation.
For its part, corporate America has had very little trouble adjusting. It's becoming pretty well understood among CEOs and hiring managers that in the modern era, contract staffing is not only acceptable as a way of doing business, but a high value tool to drive growth and reduce risk. Since it's no longer necessary to hire all of your workers on a permanent, full-time basis, the business can be more agile and resilient by hiring contractors from month to month, filling specific key roles and needs that may be expected or not.
But what about the flip side of that coin? Companies are adjusting to the new labor environment, but how are the American people feeling about the transition toward becoming a contingent workforce?
According to Forbes, the labor side has had an active role in this movement as well. Andrew Karpie, research analyst at Azul Partners/Spend Matters, said "that with help from both people and their employers," he expects "the workplace as we know it to be completely transformed" by the year 2025.
Redefining The Word "Job"
Having "a job" used to mean securing a full-time position with a company that an employee would remain at for his or her working career, maintaining a steady or predictable stream of income.
Now with the emergence of the Gig Economy, "the big shift that we're seeing is the dissipation of the industrial employment labor economy and standardized forms of work arrangements," Karpie told Forbes. "What we're seeing now is that technology is making it more and more possible support other types of work arrangements."
American business is transitioning from an economy built on stability and predictability to one that's increasingly labeled a "freelance economy." Full-time jobs aren't going away completely, but people's expectations are certainly changing to an extent that today's millennial worker entering the workforce is expecting to work in many different roles at multiple companies over the course of their job lives.
Workers Today Are Adapting
This is a pretty jarring change, considering how long Americans have relied on full-time work, but perhaps not surprisingly, they're adapting pretty well. It's a matter of being ready to learn new skills on a lifelong basis and adapt quickly to changes in the labor marketplace.
"Understand that you need to acquire skills, know-how, etc., that will be relevant and valuable in the economy that is evolving," Karpie advised the employees of tomorrow. "Also keep in mind that the labor marketplace continues to become more fluid, meaning work requirements change more quickly, and so do 'jobs.'
As hockey great Wayne Gretzky once said, "I skate to where the puck is going to be, not to where it has been." Which means that workers will need to become more proactive about recognizing skills gaps and labor shortages and responding quickly.
Rethinking Labor and Business Continuity
On the corporate side of this dynamic, these changes make for an interesting challenge in terms of business continuity management. Staying ahead of the curve is a challenge, and the end result will be a new agile workplace in which organizations are quicker, smarter and more adaptable, and therefore more profitable as a result.
Back to Top >


Additional Resources
It's no surprise that the most read content on our blog in 2017 was related to our contingent staffing services.
As the skilled labor shortage and trends such as the transition to contract or gig labor continues to impact the manufacturing sector across the United States, the need for temporary travel teams of skilled labor and managers to ensure business continuity will only increase.
Let's take a look at our most read contract staffing articles to help you navigate through 2018 and beyond.
You're not always going to have enough staff on hand to keep up with production. What's more, if your manufacturing facility is located in a remote area or in an area where skilled labor is hard to source, traditional staffing agencies may not be able to help find the personnel you need to keep production on schedule.
Having a labor continuity plan in place for when you're facing a staffing emergency is important for every business, but especially needed within the automotive industry where large penalties can be imposed if product is not delivered on time. Download our Labor Inventory Workbook to proactively plan for such issues.
Today's companies benefit greatly from flexible workforces and it's needed in order to compete globally. It becomes even more important, in times of crisis, to be able to respond to man-made or natural disasters with the help of contingent workers.
As of October 6, 2017 there had been 15 weather and climate disaster events with losses exceeding $1 billion each across the U.S., according to the National Oceanic and Atmospheric Administration. Contingent workforces play a critical role in disaster recovery efforts to get your business back up and running.
Business continuity planning is often misunderstood or overlooked, however, it is a critical aspect of long-term business success regardless of industry.
One thing that has become crystal clear, is that local labor shortages are a real threat to business continuity and are often overlooked by businesses until they're facing a dire situation. Thankfully, there are tools like this Labor Inventory Workbook to proactively help business prepare and companies like MADI that can quickly respond by mobilizing teams of 50 to 100 highly skilled employees at a time and have them acclimate to your operations quickly and seamlessly.
Looking for more great articles? Head over to our main blog page and don't forget to sign up to our email list to have new content delivered to your inbox.