Subscribe and Listen Now!
---
With signs of an impending recession everywhere, it is good to have a plan in place to overcome the fear of "what-ifs" and look at the issue more rationally. In this episode, our host, Michele Vincent, shares insights based on recent hiring freezes and layoffs at major companies, along with news surrounding looming recession concerns that seem to be headed straight for us.
In This Episode:
➡️ Recent notable U.S. layoffs
➡️ Manufacturing demand and labor market outlook
➡️ Manufacturing industry layoffs
Recent Notable U.S Layoffs
As a result of slower business growth, rising labor costs, and recession concerns we are seeing a wave of layoffs in 2022. News headlines are covering hiring freezes, layoffs, rising inflation, turbulence in the stock market, and of course recession fears which seem to be pointing to a major crisis ahead.
LinkedIn has been flooded with posts from those affected by layoffs reaching out to their network seeking employment. There are certainly ripples happening within the labor market as some of America's largest organizations are laying off employees and implementing hiring freezes but at this time it appears that the tech sector is the industry most affected.
Some of the notable layoffs and hiring freezes so far this year include:
Additional Layoffs of 2022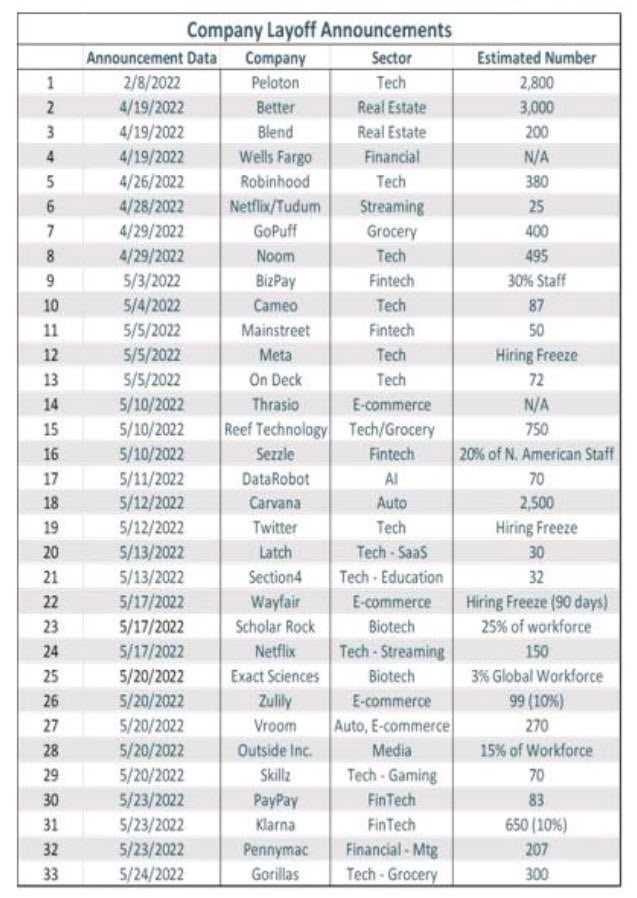 Amazon Is Overstaffed
An increase in consumer online shopping throughout the pandemic, triggered Amazon to beef up its staff and expand its facilities to support the demand. Unfortunately, they were under the gun and were forced to make decisions about warehouse space a year in advance and as a result, are currently overstaffed with more space than they know what to do with. After losing $3.8 billion during the first quarter, Andy Jassy, Amazon's CEO, states the company will now focus on boosting productivity and cost efficiencies.
Tesla Announces Hiring Freezes & Layoffs
Elon Musk has created a lot of media buzz lately starting with announcing that Tesla employees will be required to be in the office for a weekly minimum of 40 hours, closing the door on remote work. Then he announced a worldwide hiring freeze and that about 10,000 salaried employees may be let go. An unidentified source reported to Bloomberg that an internal email stated that Tesla had become overstaffed but that cuts won't impact those building cars or battery packs, and hourly employees would be expanded. Despite Musk having a "super bad feeling" about the U.S. economy, a recent article from Reuters stated he might be backtracking and says now that Tesla's total headcount will increase but salaried staff will be fairly flat.
Musk is not alone in being uncertain about the economy, as other business leaders share a similar concern. However, it seems as though manufacturers may avoid the weight of the impact. Although some fear a downturn, economists think it is premature to worry about a decrease in hiring. Despite curtailed revenue, slumping markets, and lower valuations within the tech world, manufacturing has been a stronghold thanks to steady product demand even though consumer behaviors have started to change back to services like travel, dining out, and recreation. In fact, a National Association of Manufacturers Outlook Survey found that in the first quarter of 2022, 89% of respondents felt optimistic about company growth.
Manufacturing Demand And Labor Market Outlook
The Manufacturing Institute & Colonial Life launched a new study last month called The Manufacturing Experience: Compensation & Labor Market Competitiveness which clarifies labor challenges are expected to remain indefinitely. The objective of the study was to learn more about the competition for talent in today's tight labor market, which discovered manufacturer's top concern is the inability to attract and retain a quality workforce. The study showed companies implementing the following strategies to address the current skills gap:
Utilizing temporary staffing services
Creating or expanding internal training programs
Collaborating with educational institutions on skills certification programs
Encouraging those close to retiring to stay longer
Working with local employment offices
Other (undefined)
Considering moving operations to another location
Other key findings include:
93% of respondents had unfilled positions within their companies for which they were struggling to find qualified applicants
59% of respondents said that increased worker flexibility had helped to attract and retain employees
Company culture and "being cared for" are important differentiators in the competition for talent
The competition for manufacturing talent is intense and there have been significant wage pressures that have pushed the average hourly earnings to the fastest rate of growth in 40 years. As a result, manufacturers need to differentiate themselves in the battle for talent by developing a workplace culture that makes employees feel heard, appreciated, and makes them feel as though they're part of a team that is making the world a better place.
Staffing Industry Shifts
There is a shift in the staffing industry that's not getting much buzz. Working at MADICORP, Michele talks with manufacturers across the country about staffing challenges they face, and one common factor among them is that their local staffing agencies are experiencing a mutual talent struggle with a lack of applicants and high turnover which shouldn't come as a surprise due to the fact they're sourcing from the same talent pool and competing with the same local businesses in the area.
The shift in the labor market that occurred as a result of the pandemic has created an increased demand for traveling contract workforces. Staffing agencies like MADI source experienced manufacturing talent from across the United States and bring them to where they're needed most which has been a lifesaver for companies unable to keep their facilities staffed through traditional staffing methods. The demand for this type of staffing has increased so much that new companies are entering the market and existing companies that have never before offered traveling contract workers have added it to their service options.
Manufacturing Industry Layoffs
It does appear, at this point, as layoffs continue in the tech industry weekly, that not much has or is changing at this point in the blue-collar labor market and there doesn't seem to be much relief in the demand for manufacturing talent. That being said, there have been some manufacturing closings worth mentioning especially for anyone who may be in the area as those employees will be seeking new employment.
Tyson

- Robards, KY

Cut 200 out of 1200 jobs in January 2022
Plan to invest 1.3 billion in automation to save the company $1 billion by 2024

Learn more


Stellantis

- Belvidere, IL

A Jeep plant has cut its workforce by 70% over the past 3 years from 5,000 workers to 1,600 and has been impacted by the semiconductor shortage

Learn more

Seeking to reduce employment at Belvidere to

"603 non-skilled and 199 skilled trades employees," according to a UAW letter from March Learn more


Ford

- Across the U.S.

Laid off 580 salaried employees and agency workers in April 2022
Reductions occurred largely in engineering
Undergoing restructuring to focus on electric vehicles, causing job cuts Learn more


WB Frozen LLC

- Frankfort, NY

Laid off 206 workers in May
Closed permanently on May 23 due to company restructuring

Learn more


Blue Bird Manufacturing

- Fort Valley, GA

School bus manufacturer - 100+ workers laid off in May due to supply chain disruptions
Production workers may be eligible for rehire pending economic improvement

Learn more


Armstrong Flooring

– Lancaster, PA

606 workers may face layoffs as soon as June 17th

Working through bankruptcy


Layoffs are not a certain, according to Senior Vice President

Learn more



Tenneco

- Kettering, OH

600 affected workers
Files WARN Notice as Kettering plant closure nears
Layoffs to start in June; closing at the end of 2023

Learn more


The American workforce and employers are facing challenging times. Layoffs are on the rise, yet businesses are struggling to find qualified employees. As a result, the staffing industry is shifting, and new companies are starting to offer traveling contract workers to fill in labor gaps. These challenges are likely to continue in the coming months, creating difficulties for businesses and workers alike.
References
Subscribe and Review our Podcast!