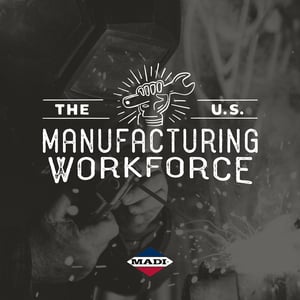 We're excited to announce that we are launching a new podcast:
The U.S. Manufacturing Workforce!
There is a supply and demand issue in the competition for manufacturing talent and labor market troubles are unlikely to go away. On our podcast, we'll chat with industry leaders about the top workforce challenges impacting manufacturers today and solutions for labor shortages, skills gaps, supply chain disruptions, hiring, retention, labor disputes, and more.
Our Host, Michele Vincent
Michele Vincent has been talking with business leaders across the country since 2007 about the biggest labor challenges impacting their businesses. From operations and human resources executives to supply chain and procurement professionals, she brings a unique perspective to each podcast interview.
Michele is also a member of the Women in Manufacturing Association (WiM), she runs a 14K+ member Facebook group, Traveling Contract Jobs, connecting industrial job seekers with recruiters in the travel staffing industry, and has launched a new website TravelingContractJobs.com. Tune in for conversations about different business challenges and solutions manufacturers are experiencing today.
Subscribe and Listen Now!
---
Topics We'll Cover On The Podcast
Labor Shortages & Skills Gaps in Manufacturing
The manufacturing industry is currently facing a skills gap that could leave as many as 2.1 million jobs unfilled by 2030, potentially costing the U.S. economy as much as 1 trillion dollars. In a recent survey, manufacturers reported that finding the right talent now is 36% harder than it was in 2018.
Although the manufacturing industry recovered 63% of lost jobs during the COVID outbreak, the remaining 570,000 had not been filled by year-end. 77% percent of manufacturers say they expect ongoing hurdles attracting and retaining employees past 2021. Studies show the top reasons these positions go unfilled as the following:
New entrants having different expectations for jobs and careers topping the list at 38%
Lack of attraction or interest in the industry at 36%
Retirement of baby boomers at 34%
Other business challenges that manufacturers are facing are included below.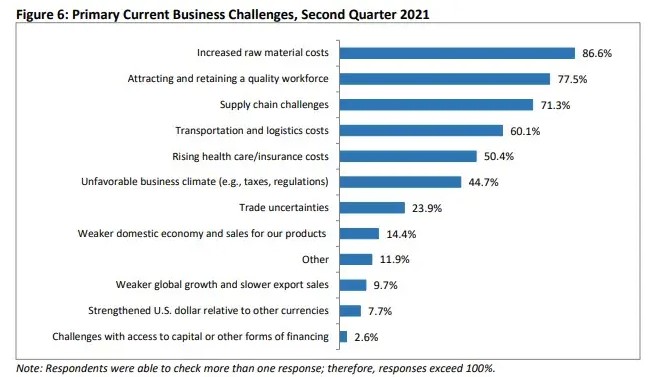 Supply Chain Disruptions
The pandemic has brought manufacturers through a series of causes and effects leading to production delays, challenges attracting talent, vaccination requirements, travel restrictions, and supply chain disruptions.
Another dark cloud hanging overhead are the unexpected events that placed limitations on the supply chain such as the fires in California, freezing conditions in Texas, and the obstruction of the Suez Canal.
This collaboration forced companies to adapt by temporarily shutting down plants, raising prices of goods, limiting distribution, and increasing the size of orders, resulting in a supply shortage at the most inconvenient time when demand is at an all-time high.
Women In Manufacturing
A major factor contributing to labor shortages includes the underrepresentation of women, among other groups, in manufacturing. A Deloitte study discovered that 1 out of 4 women are contemplating leaving the industry, which could negatively impact retention and diversity in the workplace.
According to the study, 30% of manufacturers are women
Women represent only about 25% of production jobs
In a survey of women, they were 1.8x more likely than men to consider leaving the industry, due to a lack of work-life balance and job flexibility
Labor Disputes
Last year was the first time since the beginning of the pandemic that we started to see a spike in labor disputes. Although some shutdowns occurred in early 2020, many factory personnel remained on the production lines, while hospitality came to a halt, and other industries switched gears working from home. After putting in hours of mandatory overtime, risking safety, and feeling undervalued the workforce has reached its breaking point and is now leveraging labor shortages to their benefit whether it is at the negotiating table or pushing for unionization efforts.
This wave of activism finally came to a head in October of 2021, leading to the infamous nickname, 'Striketober'. During this time, thousands of union members from major companies such as Kellogg and John Deere went on strike, making national news.
Contact Us
If you'd like to be a guest on our show or if you have topic suggestions, please email us at:
Subscribe and Review our Podcast!