Subscribe and Listen Now!
In this episode, I talk with Tom Armitage, Sales Executive at Site-Seeker Inc., about some of my favorite topics -- inbound marketing, sales, and technology! We chat about how manufacturers, material handling companies, equipment dealers, and other industrial companies can leverage technology and inbound marketing strategies to increase leads and drive more revenue for their businesses.
What you will learn:
➡️ How To Define Target Audiences And Buyer Personas
➡️ The Importance Of Keyword Research And SEO Optimization
➡️ Why The Alignment Of Marketing And Sales Can Make Or Break A Company
What Is Inbound Marketing?
Inbound marketing in basic terms is simply attracting customers to your business through valuable content as opposed to outbound marketing, which interrupts prospects with content that they don't necessarily want, which sounds simple, but it's actually a lot more complicated than that. Tom believes that both inbound and outbound marketing complement one another really well and that companies with an omnichannel digital marketing approach will have the greatest impact.
The types of inbound marketing content that can help manufacturers drive more leads to their website can include social media, website content such as blog posts or pages, and even podcasts like this one. An inbound strategy will include these various types of content, but it must also be on-brand and resonate with your target audience to drive more buyers to your website.
Identify Your Target Audience
In order to create content that is going to resonate with your ideal customers a business must understand who their ideal customers are -- these are known as "Buyer Personas" -- so that content can be created around what's important to them as it relates to your product or service. Some companies may only have a few buyer personas, while other companies with multiple product lines could have as many as 7 to 10 or more. Regardless of how many, having this understanding in place before creating content is incredibly important because this will dictate your keyword strategy and what type of content you should create. Tom walks us through how manufacturers can go about identifying and creating detailed buyer personas which include formalized surveys, questionnaires, interviews, and more.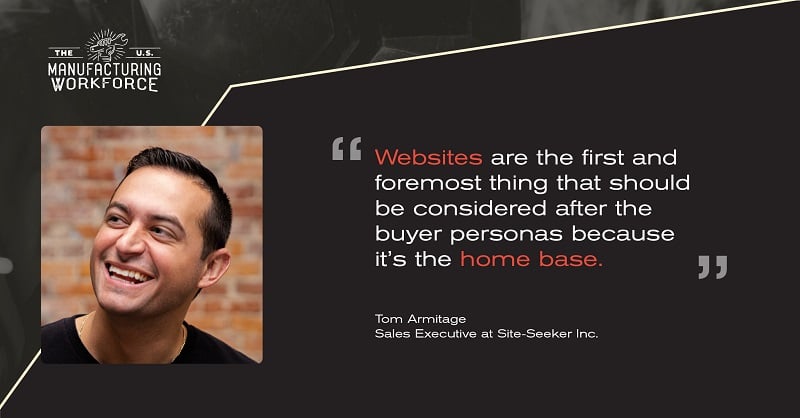 Search Engine Optimization (SEO)
When it comes to creating a new website, specific pages or blog posts as part of your inbound marketing strategy, you'll want to consider keyword research and SEO as you begin to develop content. Search engine optimization may sound scary, but it's not -- in simple terms, it's a way to optimize your website so that it shows up in online search results when people are looking for your product or service. Tom talks about the SEO puzzle and we break down technical SEO vs on-page SEO.
Technical SEO
Tom walks us through the technical side of SEO which is where he said a lot of people get nervous -- and I agree! This has to do with things such as website speed, image size, URL structure, and page hierarchies from parent pages, to child pages and sub-pages. These are important for when search engines like Google crawl your website, but also in general for user experience. If a website takes too long to load, or a user can't find what they're looking for, it will have a negative impact on their user experience. Users leaving a website quickly is known as a "bounce rate" which also is a negative signal to search engines.
On-Page SEO
The practice of optimizing individual website or blog pages in order to rank higher in search engines and increase organic search traffic is known as on-page SEO. This is where keyword research comes into play and Tom believes this is s step that is often skipped altogether. It's important to be strategic about your page title, header tags, and the keywords you're using within your content because that is what signals to Google, Bing, and other search engines about what the page is about and whether or not they show it when someone performs a search online.
There are a number of great keyword tools that Tom and I discuss, including Moz, Answer The Public, Google's Keyword Planner tool, and the Chrome browser plugin, Keyword Surfer, which is one of my favorites.
The most important factor when creating content is going to be relevancy, so when it comes to your keyword strategy it's important to understand user intent behind certain keywords; otherwise, you could be spinning your wheels and creating content that is going to blow up in your face because either Google is confused or users are confused when they find your content because it's not aligned with what they're searching for.
The Alignment Of Marketing & Sales
Not all website leads are created equal and often times there are differences between what marketing and sales believe are true leads. There are, for example, Marketing Qualified Leads (MQLs) and Sales Qualified Leads (SQLs) and for a long time, those have been the most important factors for digital marketing efforts because an MQL means it's good enough to pass on to Sales.
Unfortunately, Sales teams don't always agree with Marketing on the quality of a lead, so if the marketing leads aren't good enough then there becomes a bit of a battle between the two departments. If these two departments aren't communicating or their systems don't integrate, then you'll have a situation where Sales people are saying these leads aren't good enough and marketing is saying they're providing enough leads, and the end result is that the company is not hitting their sales numbers.
Oftentimes, manufacturers aren't using systems and technology that unify both the marketing and sales efforts which makes it a bit more difficult to track these metrics, improve upon them, and get both departments working together in unison. This is where the right technology comes into play --- there are great software systems in this area specifically so that their inbound marketing efforts and sales systems can work together. When this happens, you can better track metrics for your inbound marketing efforts and which leads are converting to sales. Tom shares with us some rough stats about how many manufacturers are using these tools and software recommendations that he uses with his clients to align marketing and sales. Tune in on Apple or Spotify, and listen in as we chat about the most popular software tools, which ones are our favorites, and much more!
Subscribe and Review our Podcast!
Resources