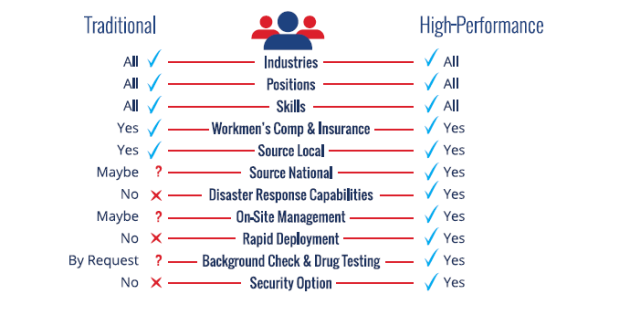 As we turn the page on 2015 and transition into a new year, it's becoming more clear that contingent staffing is moving into the mainstream of business today. The traditional paradigm of hiring full-time, permanent employees solely is on the decline - companies now rely on a mixed workforce of permanent staffers and temporary help to fill shifts.
This change is only natural. It's one that benefits the business and its employees - employees gain the autonomy to control their employment situation, and companies gain agility by being able to rapidly adjust their workforce based on often fluid market conditions. Everyone wins.
But it's also important to note that the contingent staffing model itself is also changing and can be used to meet different business objectives from managing costs or driving business resilience. This means that executives need to be strategic as staffing gaps now present a variety of additional risks from revenue loss, competitive threats as exposure to a variety of potentially costly compliance liabilities.
That said, below are three (3) key trends to monitor in 2016:
1. A Growing Market Is Tilting In the Candidate's Favor
According to Business 2 Community, the contingent staffing economy is rapidly evolving. Len April, vice president of San Jose-based Crowdstaffing, told the news source that because there are so many companies hiring on a temporary basis now, it's a favorable market for the contingent worker, and in 2015, adjusting to this change became a priority.
"The talent acquisition professionals who thrived in this seller's market made bold changes in the ways they connected with buyers and sellers," April noted. "They focused on placing the right candidates in the right business cultures rather than scouting for talent who presented the best deal."
There are plenty of businesses hiring contingent workers today. To compete for the best possible talent, companies now have to be more aggressive to secure the workers they need.
2. Constant Connectivity
As the contingent labor workforce grows, it's also becoming more connected. The dialogue about available positions and candidates is out in the open and shows no signs of slowing.
April described this phenomenon as "generation connected." As contract staffing becomes increasingly popular, its participants will be in constant pursuit of the latest information, including workplace conditions and pay.
"The most interesting distinction about Gen C is that it can, and does, encompass professionals across generations - from young men and women just starting their careers to mentally and physically vibrant 65-year-olds," April observed. "All of these people now lead online lives. They rely on mobile, on-demand technology to accomplish their work, both on the job and at home."
This means it's necessary for businesses to engage constantly with multiple sources of talent. The ideal candidate for the job today might be gone tomorrow - it's a fast-paced world.
3. The Many Roles Of Contingent Staffing
The labor climate today is dynamic, agile and fluid, and it's more important than ever to have all the staffing tools you need to adjust at a moment's notice. Fortunately, that's where today's contract labor and staffing agencies can fit. The best are strategic allies who are able offer flexible solutions that foster business agility and resilience to meet your specific key staffing needs at that specific moment.
One recurring trend we see is that for simplicity and efficiency, many companies lock themselves into relationships with traditional staffing vendors to help them manage costs and integrate Managed Service Provider (MSP) Programs, which is a great idea … most of the time.
Sometimes however external factors such as local a labor shortage or natural disaster come into play. Then the question becomes what happens when your standard day-to-day solution is unable to fill key positions quickly with the resources at hand?
This is why companies hire us to provide our high performance contingent staffing solution specifically in order to solve staffing crises that left unattended, open the business to revenue losses or unacceptable risk due to missed deadlines, unfilled orders or underutilized facilities.
MADI's High-Performance Contingent Staffing methodology is completely different from traditional staffing models in that we source the best available skilled labor from across the United States, and we are not limited by location.
This enables us to:
Provide a staffing solution when companies can't find the skilled labor they need locally
Provide a staffing solution when local staffing agencies aren't providing the experienced and highly skilled labor needed for their operations
Provide a staffing solution quickly (within 24 to 72 hours) anywhere in the country
So while the labor paradigm is changing, it's even more important to have the flexibility built into your staffing "toolbox" so that you can respond quickly and decisively to shortages that are more often than not, likely to arise in 2016 and beyond.