Good morning, and welcome to our new Blog! We are very excited about being able to connect with you on a more informal basis. If you have received calls from MADI, there is a good chance you have heard my voice or spoken with me already. My name is Michele and I am a member of the team here at MADI. As we get this blog up and running with new content I will be the main contributor. Moving forward, I hope to periodically engage people throughout the MADI organization, experts in Labor Dispute Negotiations, Security, Production and Management, as well as Legal and other experts across the country to share their thoughts with you as well.
So, what will we be blogging about? Good question! I have my own ideas about where I would like to take this blog, but ideally that will be determined by you. I welcome comments and interaction between readers as long as everyone remains professional. Our main goal is to provide you with relevant information, address your questions and concerns and provide a more interactive experience for you.
Each week my department answers a lot of questions about contingency planning from people that call in and I'm sure there are a lot of people with similar questions that are hesitant to pick up the phone and ask. Each Monday I will have a "What's on Your Mind" post addressing questions that people have about contingency planning.
Social Media & Labor Disputes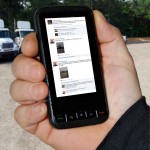 To get things started, one topic that comes up again and again in my conversations with you is the impact social media is having in labor dispute environments. Even if you're not personally using social media sites, union members are. Sites like Youtube and Facebook are used to upload video and photos taken on picket lines or following behind vehicles and the ramifications can be huge. That is why maintaining a disciplined temporary workforce and securing your facilities is so crucial. Any Infractions or other embarrassing incidents are now up for grabs to be captured and distributed on the fly. What do you think? Is social media a potential threat to a company's reputation? To regulatory compliance? What measures do you think are necessary to address this? Have you seen or heard any damaging breaches that came about or were distributed through social media?
If you have a question that you would like answered here, you can email me at mvincent@madicorp.com or feel free to call me at 800-780-0500 – just ask for Michele!
Oh, and don't worry – I will never use your name or company when addressing these questions (unless you ask me to). We respect your privacy. Periodically, we will have guest bloggers as well. If you're a management-side labor attorney looking to discuss current labor and employment law topics relevant to our audience, please feel free to contact me.
Don't forget to add us to your favorites list, RSS reader and share our link with your coworkers. If you're not much of a blog reader you can also follow me on Twitter, connect with me on LinkedIn or join my Linkedin Group, Unionized. We have a great group of Management-Side Labor Attorneys, Human Resources and Labor Relations professionals that will share some of their thinking and who will also be available for you to network with. Thanks for stopping by!