By: Michele Vincent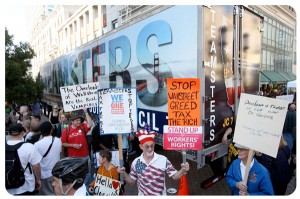 I have been closely following the Occupy Movement's relationship with labor unions since the Occupy Oakland General Strike took place on November 2nd. In response to conversations with clients and discussions in Unionized I have decided to create a blog series around the Occupy Movement/Labor Union relationship, so stay tuned!
To kick things off, let's start with some videos I found today:
This afternoon I came across an article on BigGovernment.com titled "Unions: Future of the Occupy Movement?". The article written by Accuracy in Media provided two videos that I thought our readers will find very interesting. The first video is of Benjamin Johnson from Accuracy In Media driving to "Our DC" and interviewing the protesters to find out why they are there, what union members are part of the Occupy DC movement and who paid for the signs, hats, t-shirts, etc. The second video is of Ben at a the Nurses Occupy Wall Street rally:
http://youtu.be/UXrf3ww5vME
http://youtu.be/J0pZIO2EzSY
I hope that this series -- Occupy Movement & Labor Unions -- will be a great resource for you. Have you been following this topic at all? What are your thoughts? I invite you to share your opinion and experiences in the comments below. Don't forget to add our blog to your RSS feed and/or to your favorites list!